History of Sourisseau Academy
The Sourisseau Academy for State and Local History was established in 1971. Its activities were endowed by a bequest from Eva Sourisseau who wished to honor the memory of her father, Felix Sourisseau.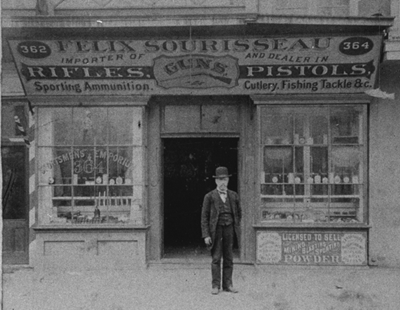 Felix Sourisseau at 362 First Street
A native of Bordeaux, France, Felix and his father came to California in 1846. Here they conducted mercantile trade in San Francisco and Marysville, and briefly in Chile (South America) before settling in San José in 1849. Once in San José, Felix established a sucessful business in gunsmithing and a hotel operation, rising to a prominent position in the business community. He died in 1909, leaving a large estate to be managed by his seven children. His youngest child, Eva, successfully followed her father's footsteps into the world of business.
"SJS Center to Collect History of State, Valley"
"Sourisseau Academy for State and Local History has been established at San Jose State College with the aid of a $174,000 bequest from long-time local resident Eva Sourisseau.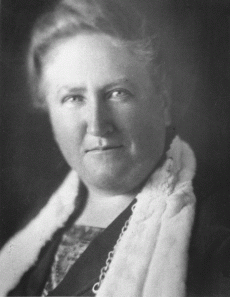 Eva Sourisseau
The academy, named after the third-generation member of the well-known Santa Clara Valley family, has been organized under the college's history department. The bequest is the largest single donation ever received by the college.
A board of trustees, composed of nine faculty members and three citizens, will direct the academy in its efforts to collect all types of source materials concerning the history of the valley, including business records, family letters, organizational papers, travel journals, and personal diaries.
The academy goals are to illuminate California history not only by collecting materials but also preparing and disseminating "historical scholarship to the college and community … through publications and other media" and studying "this history and contributions of minorities in the Santa Clara Valley" as well as furnishing "data for solving modern urban problems."
Dr. Ted Hinckley, professor of history, has been named the director.
The three citizen trustees are Clyde Arbuckle, San Jose historian; Laurence E. Bulmore, past president of the California Pioneers of Santa Clara County and co-author of "Cinnebar Hills," a history of the New Almaden mines; and Theron Fox, member of the Historical Landmarks Commission of San Jose.
College trustees are Benjamin F. Gilbert, Benjamin H. Hazard, Billie Jensen, Lawrence B. Lee, Robert E. Levinson, and Feliciano Rivera, professors of history; Gerald E. Wheeler, history department chairman; and Jerome B. Munday, head of the Social Sciences Division of the SJS library.
The academy has set up an office in the library, and members are working on short and long range goals."
-- San Jose Mercury, April 17, 1971
Contact Us
Phone and Email
Telephone: +1 (408) 808-2064
Email: research@sourisseauacademy.org





2021-2022 Board of Trustees
The Sourisseau Academy is governed by a board of trustees drawn both from the faculty of San José State University and from the community.
Stanley Underdal, Director
Damian Bacich
Kathryn Blackmer Reyes
Glen Gendzel
April Halberstadt
Libra Hilde
Michael Hurley
Amy Long
Franklin Maggi
Margo McBane
Charlotte Sunseri
Robin Treen
Sourisseau Academy Staff
Charlene Duval, Executive Secretary
Leilani Marshall, Archivist
Marguerite Wilhelm-Safian, Assistant Archivist

Hours
Please contact us by phone or email to schedule an appointment.